The TVCDC preschool program serves children 2 ½ through 6 years of age. Each classroom operates by or below the State regulated child-to-teacher ratio and is intentionally designed to create a safe and comfortable environment to encourage independent learning through creative curriculum and play. Our experienced and loving preschool staff empower children to explore, ask natural questions, and be guided through a discovery learning process.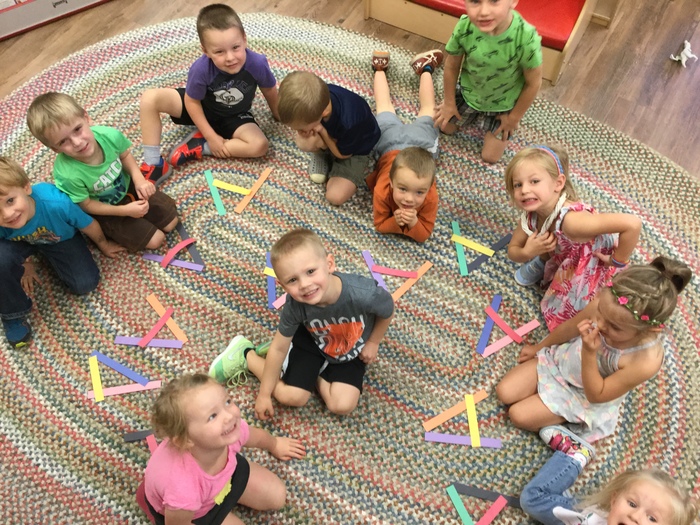 While TVCDC's preschool children engage with developmentally appropriate learning materials throughout the day, they also spend significant amounts of time building strong relationships with peers and being guided by their teachers towards acts of kindness and healthy conflict resolution.

Children participate in a structured daily circle time where they have the opportunity to react to, and interact with, various language arts, math, and communication. Daily free play times are enhanced through intentional content exposure, thus promoting and reinforcing the practice of both academic and motor skills. Through both the structured and unstructured times of the day, a creative play-based learning philosophy integrated with Christian values and principles creates a rich and loving environment to encourage children to be themselves in the discovery learning process.

We consider it an honor to walk these incredible early years in partnership with families and children and trust our investment results in healthy, thoughtful, and confident children who are well prepared for Kindergarten and the next steps in their life's amazing journey ahead.

Young Preschool
Pre-Kindergarten
2.5 - 3.5 Years
3 - 6 Years
*Potty Trained
2 days per week - $ 545/month
3 days per week - $ 815/month
5 days per week - $ 1,345/month
2 days per week - $ 505/month
3 days per week - $ 755/month
5 days per week - $ 1,245/month
Contact & Location
If you would like to tour of our facility and/or learn more, contact the Admin office by phone or send an email today.